Our Roof Cleaning Services Throughout San Antonio, TX Area
Our professional roof cleaning services are just what San Antonio homeowners need to brighten and lighten their asphalt shingles. All that algae, dirt, moss, and grime make your roof look older than it really is. We can take care of that today.
Not all San Antonio pressure washing companies offer roof cleaning and some methods will damage your asphalt shingles by using high pressure that causes granule loss shortening the life of your roof. You can trust our experts to restore the look of your roof back to its original beauty without damaging the shingles using our low pressure Soft Washing method.
If it's time to get those black stains off your roof today, give us a call or use our online form to schedule roof cleaning service. We'll provide a competitive estimate for your San Antonio home.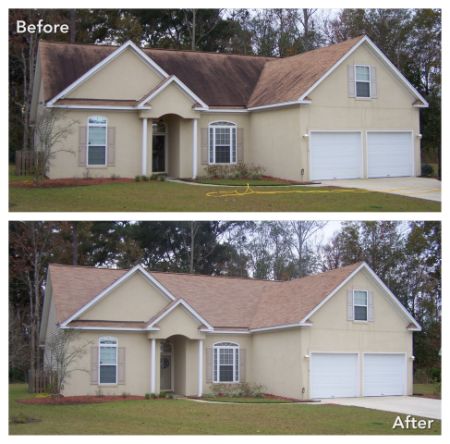 Roof Cleaning To Prevent Black Algae Stains
Our San Antonio roof cleaning experts use Soft Washing to remove black stains from your rooftop. The stains are most often black algae that actually eat the asphalt shingles for food. Mold, mildew, lichen, and moss cause roof problems, so removing them is important if you want the structure to last as long as possible.
The solutions we use for roof cleaning remove these microorganisms AND DETER them from growing back. It is a biodegradable eco-friendly cleaning solution, perfect for preventing the growth of these destructive natural organisms.
Beautify and protect your San Antonio area home today by calling our pressure washing company for roof cleaning service.
If you are looking for a professional roof cleaning company in the San Antonio area, please call (210) 867-5986 or complete our online request form.
Exterior Cleaning Tips & Articles
Make a Great First Impression at Your Business

Commercial Pressure Washing You're busy managing employees, handling payroll, and all your other daily tasks. You know you need to put your best foot forward, but you don't have time to stress abou […]

Home Maintenance and Pressure Washing

What is Pressure Washing Pressure washing is the use of water spray to remove dirt, mold, mildew, oil, and other contaminants on a surface - your home, driveway, outdoor living spaces, windows, and […]
Schedule a Consultation Today With Your Trusted San Antonio Pressure Washing Company