Window Cleaning For Your San Antonio Home
Window cleaning in San Antonio should be a regular part of your home maintenance. It is also a job best left to the professionals. You don't want to risk damaging - or worse - shattering your windows while trying to clean them with a pressure washer.
The pros at Green Team Prowash have the right tools and expertise to get the job done right. We'll leave your windows sparkling clean and undamaged. The window panes, frames, and sills will all look brand new.
Green Team Prowash, your pressure washing in San Antonio experts, know to use a soft wash pressure washing method for easily-damaged home exteriors and windows. This means that a gentle, eco-friendly cleansing agent is applied to the windows, and then a specialized sprayer is used with low pressure or no pressure to remove the soap and wash away dirt on the windows and frames.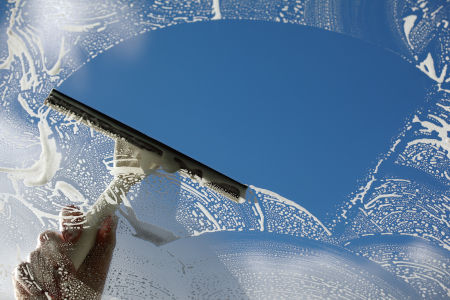 Make Your Windows Shine Like New
Benefits of using a professional window washer:
Expertise to handle fragile surfaces
Use of eco-friendly, gentle cleaners that won't damage or age glass panes
Tools to safely reach high windows
Offering a full package of pressure washing services to make your home clean from top to bottom
Another service we offer that will make your home look new again is gutter brightening. This pressure washing job cleans gutters and restores them back to their original color.
Exterior Cleaning Tips & Articles
Make a Great First Impression at Your Business

Commercial Pressure Washing You're busy managing employees, handling payroll, and all your other daily tasks. You know you need to put your best foot forward, but you don't have time to stress abou […]

Home Maintenance and Pressure Washing

What is Pressure Washing Pressure washing is the use of water spray to remove dirt, mold, mildew, oil, and other contaminants on a surface - your home, driveway, outdoor living spaces, windows, and […]
Schedule a Consultation Today With Your Trusted San Antonio Pressure Washing Company