Home Maintenance and Pressure Washing
What is Pressure Washing
Pressure washing is the use of water spray to remove dirt, mold, mildew, oil, and other contaminants on a surface - your home, driveway, outdoor living spaces, windows, and more. Each surface needs a particular measurement of pressure from the water spraying tool. Sometimes we power away dirt with a power wash and other times we use a soft washing method for delicate surfaces. Depending on the level of dirt and the surface type, a cleaner can also be applied before water pressure is used.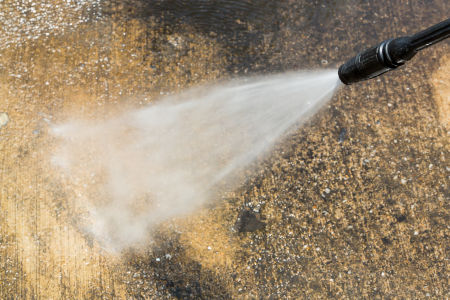 Pressure Washing and Home Maintenance
Your home maintenance projects can be easier and have long-lasting benefits when you hire a professional pressure washing company like Green Team Prowash. Each season there may be projects to tackle to maintain your home's exterior and keep you curb appeal looking top-notch.
Experts recommend house washing every three to five years. This may depend on the level of dirt or precipitation received over time. A few extra rainy months may increase the level of mold or algae on the home. You'll want to remove those allergens for the health of your family in the home, as well as to protect your home from rot.
Other pressure washing projects may need to be performed as the seasons change. We recommend fence cleaning as a part of seasonal clean-up. Fence cleaning regularly to remove seasonal mold or mildew will help you avoid costly repairs in the future. It is also an ideal way to prep your fence for painting, repairs, or remodeling. While you're cleaning your fence, we also suggest patio cleaning. A fresh yard will let you enjoy your outdoor living spaces during the warmer months.
Another pressure washing service best done twice a year as the seasons change is gutter cleaning. Our team of pressure washing experts will remove debris - limbs, insects, leaves, dirt, and more from each season from clogging up your gutters and downspouts. It is important to clean your gutters often, as clogged gutters can cause damage to the gutters themselves, but also clogged gutters can't move the water away from your home. We also offer gutter brightening, restoring the color of the outside of the gutters.
We can help with all your seasonal pressure washing needs and more; contact Green Team Prowash to tackle your home maintenance today.
Exterior Cleaning Tips & Articles
Make a Great First Impression at Your Business

Commercial Pressure Washing You're busy managing employees, handling payroll, and all your other daily tasks. You know you need to put your best foot forward, but you don't have time to stress abou […]

Home Maintenance and Pressure Washing

What is Pressure Washing Pressure washing is the use of water spray to remove dirt, mold, mildew, oil, and other contaminants on a surface - your home, driveway, outdoor living spaces, windows, and […]
Schedule a Consultation Today With Your Trusted San Antonio Pressure Washing Company