Limestone Soft Washing in San Antonio, TX
Safe and effective low pressure soft washing house wash in Timberwood Park San Antonio. Custom blended cleaning solution was applied with low pressure to remove organic growth from the homes exterior and then gently rinsed away. The black staining from the algae and mildew was effectively removed, reviving the limestone to its natural clean appearance.
The driveway, walkway, and front porch concrete were cleaned using our 3 step process for concrete pressure washing to remove mildew, algae, dirt, and grime. The surface is pretreated with a custom blend cleaning solution to breakdown the stains and organic matter embedded in the pores. Then a pressurized surface cleaner is set at the proper psi to safely and effectively clean the surface. The final step is a post treatment of a custom blend cleaning solution to irradiate any remaining mildew/algae embedded in the pores to give a bright finish that looks cleaner for longer than standard pressure washing methods.
Services: House Washing, Concrete Cleaning
Location: San Antonio, TX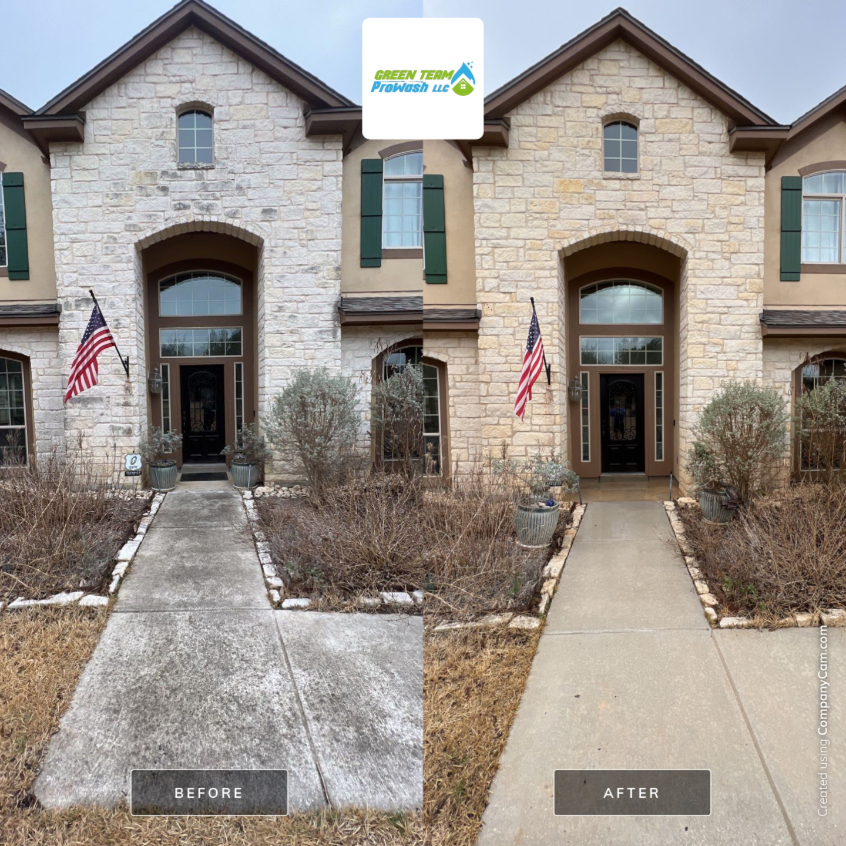 Exterior Cleaning Tips & Articles
Make a Great First Impression at Your Business

Commercial Pressure Washing You're busy managing employees, handling payroll, and all your other daily tasks. You know you need to put your best foot forward, but you don't have time to stress abou […]

Home Maintenance and Pressure Washing

What is Pressure Washing Pressure washing is the use of water spray to remove dirt, mold, mildew, oil, and other contaminants on a surface - your home, driveway, outdoor living spaces, windows, and […]
Schedule a Consultation Today With Your Trusted San Antonio Pressure Washing Company