The Benefits of Soft Washing
What is Soft Washing
Soft washing is a method of pressure washing using a low-pressure or no-pressure cleaning method. A gentle, eco-friendly cleaning detergent is applied to a surface, and then we use our pressure washer with a no-pressure or low-pressure sprayer attachment to remove the soap and grime.
Pressure washing exterior surfaces of your home is best handled by a professional. Our experts will know what PSI - level of pressure used in the cleaning spray tool - is best for each material and how to remove stains. A professional will also make sure any landscaping you've planted can be protected from unnecessary damage.
Benefits of soft washing:
Less damage to trees, shrubs, and other landscape around your home
Avoid unnecessary damage to your home's vinyl or wood siding
Better for the environment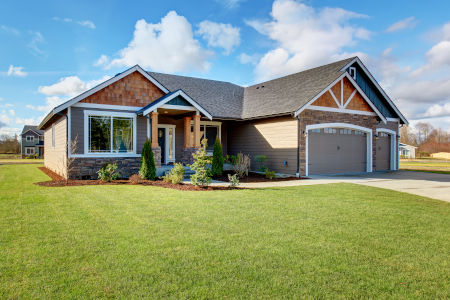 House Washing
Green Team Prowash uses a low-pressure or no-pressure house washing method. This pressure washing method leaves your home sparkling clean and looking new while ensuring there is minimal damage to your exterior siding and landscape.
Window Cleaning
Green Team Prowash knows to use a soft wash pressure washing method for easily-damaged windows. This means that a gentle, eco-friendly cleansing agent is applied to the windows, and then a specialized sprayer is used with low pressure or no pressure to remove the soap and grime.
Fence Cleaning
We know the correct PSI for pressure washing fences and use the best fence cleaning method to wash a variety of fence materials without damaging them. Cleaning your deck with a soft wash is also ideal to preserve soft wood or composite surfaces.
Leaving the decision of what type of cleaner, how much pressure you should be spraying with, and how to remove different types of contaminants or stains is best left to a professional. Contact Green Team Prowash for all your pressure washing needs.
Exterior Cleaning Tips & Articles
Make a Great First Impression at Your Business

Commercial Pressure Washing You're busy managing employees, handling payroll, and all your other daily tasks. You know you need to put your best foot forward, but you don't have time to stress abou […]

Home Maintenance and Pressure Washing

What is Pressure Washing Pressure washing is the use of water spray to remove dirt, mold, mildew, oil, and other contaminants on a surface - your home, driveway, outdoor living spaces, windows, and […]
Schedule a Consultation Today With Your Trusted San Antonio Pressure Washing Company